KYLIE ARRIVES IN OZ !!


A beaming Kylie Minogue arrived in Sydney yesterday for the second leg of her Australian tour.

Anticipated delays for passengers travelling with the embattled Ansett did not affect the pop star, who arrived 15 minutes early at Sydney Airport.

Wearing pink tinted sunglasses, matching coloured sleeveless top and blue denim jeans, Kylie said the adoration of fans in Brisbane on Saturday night "blew me away. They were incredibly loud. It's a special feeling."

She will perform seven shows at the Sydney Entertainment Centre from tomorrow night, before flying to Melbourne, Hobart and Perth.

Asked how performing in Australia compared with overseas, she said: "It's home, it's different and it's special, and they are so loud."

Kylie admitted feeling nervous before her first show. "It's more excitement, but I had tiny pre-show nerves."

Before being bundled into a waiting van, Kylie hinted there maybe something special for her Sydney fans.

"Each show will change. From the very first show in Glasgow it has been a work in progress," she said.

Kylie said she was thrilled to be performing in Tasmania and Western Australia, places she has previously left out due to budgetary constraints.


SO DOES ROBBIE.....BUT WHY ????
Just heard that Mr. Robbie Williams flew into Sydney on Sunday.
Word is that Sydney is the venue for the filming of Kylie's concert.

ON A NIGHT LIKE THIS TOUR VIDEO
Latest information says that Kylie is to release "On A Night Like This 2001" world tour on video.
Tickets being sold in Australia state that the concert may be filmed
New Kylie CD-ROM ltd edition?

There is a limited edition Light Year Album with a bonus disk of remixes, plus if you buy any kylie cd this month in Australia you get a free Kylie cd rom with picture gallery and discography and stuff.

First they gave us ABBA-mania, with acts like Steps, Martine McCutcheon, Boy George, Madness and Denise Van Outen
covering ABBA classics.
Then we had Motown Mania,with artists like Westlifeand
Samantha Mumba covering legendary Motown hits.
Now we get '80's Mania. This time, 80's pop classics get the coverversion treatment.
Yes, Kylie is amongst the artists being covered

'80's Mania screens on Saturday 14th April, on ITV.



Kylie set to to star in stage musical of "The Prince and the Showgirl" in 2002.


Reported on 1st April (April Fool's Day) was that Kylie has been offered $15,000 AUS to appear as herself in a club scene in "neighbours" later this year.
The suspicious story claimed that Kylie was thinking about
the offer.
In an interview feature with Malaysia's NSTP, Sheyne Coates of Madison Avenue backs Kylie's decision not to use the
song they wrote for her on the 'Light Years' album.

"After I heard the album Light Years, I had to agree with her move not to include the song. It's a great song but it
didn't fit in with the mood of the album.
Maybe I'll give it to Britney Spears," she says.
Kylie lingerie will not be on sale in UK

Kylie Minogue's new range of lingerie will only be available in Australia.

The singer is launching the underwear in her native country in April.

It will be called Love Kylie.

But UK fans will not be able to buy it.



Kylie to sell home to Marky Mark
Wahlberg wants singer's LA house
Kylie Minogue looks set to hand over the keys to her Los Angeles home to Perfect Storm actor Mark Wahlberg for £1 million. The Australian singer is moving out to live in London and spend more time with her boyfriend, model James Gooding. A friend of Minogue's told PeopleNews: 'Mark has seen the house and loves it. He's very keen and is intent on having it.' Minogue bought the four-bedroom house with its pool and spa in fashionable West Hollywood a few months ago. But the success of her collaboration with Robbie Williams and her relationship with Gooding have meant she is spending more time in London and looks likely to make the capital her permanent home.
Kyie In Talks To Appear in Radio Play
Kylie Minogue is set to put her hugely successful singing career on hold to make a return to acting. The Australian star is in secret talks with the BBC about returning to her first love, Boomerang can reveal, although this time around she wants to do it on the radio. Minogue, 32, has seen recently seen her pop career undergo a renaissance with her latest album Light Years, and is known to be gunning for a cameo television role in the long-running EastEnders' series - 12 years after she first appeared on British screens in Aussie soap Neighbours. However, sources close to Kylie have said that she is equally keen to star in a BBC Radio play. One friend of hers said: 'Kylie is looking for a way to ease herself back into acting after being away for a long time. She feels a radio play would be perfect. The productions are highly regarded and are put together relatively quickly, which would be a big advantage with her busy schedule. She is determined to show she is a serious actress and is thinking about life after her pop career is over.
Lady Marmalade is bustin' out!

Details have been released about the tracklisting of "Music From Baz Luhrmann's Film Moulin Rouge", and boy, is it going to be HUGE!

The hotter-than-hot tracklisting includes the radio smash "Lady Marmalade", sung by Christina Aguilera, Pink, Mya and L'il Kim, as well as contributions from Beck(singing David Bowie's glam classic "Diamond Dogs"), David Bowie with Massive Attack, Bono with Gavin Friday and Maurice Seezer, Fatboy Slim, and even the film's stars Nicole Kidman and Ewan MacGregor!

"Lady Marmalade" will be instores April 23rd, with the album to follow in early May.

Check out our Moulin Rouge page on this site for your chance to WIN tickets to the Australian Premiere!!

Kylie has recorded a version of Olivia Newton-John's "Physical" for the soundtrack of the movie "Moulin Rouge" where Kylie plays The Green Fairy, a role that was written especially for Kylie in mind. The song "Physical" is to appear on the Australian issue of "Light years tour pack".

Scheduled Release Dates
(all are subject to change):
04/05/01 - USA
31/05/01 - Australia
June 01 - UK
7/6/01 - Malaysia
14/9/01 - Sweden
3/10/01 - France
17/10/01 - Belgium
25/10/01 - Netherlands
26/10/01 - Iceland

09/05/01: 'Moulin Rouge' gets it's European premiere at the opening of the Cannes Film Festival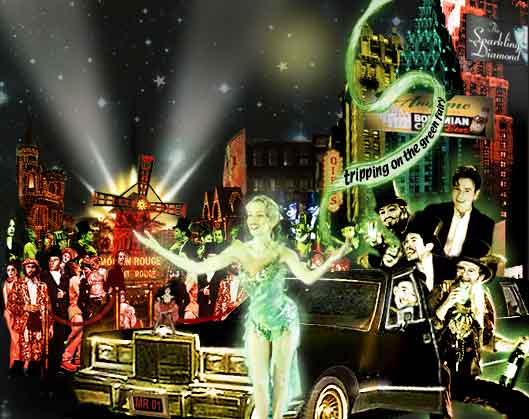 Kylie's song, 'Confide In Me' from Impossible Princess CD is being celebrated on an Aussie stamp as
part of a series of stamps celebrating Australian music.